In addition to our regular tasting room experience, we offer plenty of fun events for all lovers of wine and good times. 
Please see the dates of our Twilight Tastings below.
Tasting Room is OPEN to all from 4:30pm – 8pm.
Thursday November 2nd – Friends of Open Space 
Thursday November 9th – Valley View
Thursday November 16th – Foothill HS Song Team
Thursday November 23rd – Closed for Thanksgiving
Thursday November 30th – St Raymonds School
Thursday December 7th – Safe and Sober Grad Night GHS
Thursday December 14th – National Charity League
If you are a charitable organization, and are interested in booking a Twilight Tasting, please contact the winery at 925-456-7676 or events@pagemillwinery.com.
When open for Twilight Tastings, Page Mill Winery will donate $10 of each $20 (+tax) tasting fee as well as 10% of proceeds from sales to the selected charity or organization.  The hours of our Twilight Tastings are 4:30-8:00 p.m.
Page Mill Winery hosts the Twilight Tastings on the above listed Thursday nights with the goal of having fun, enjoying wine and raising funds for a local charity. Over the years Page Mill has raised thousands of dollars for smaller charities and fundraisers. At Page Mill Winery we are dedicated to "Peace through wine, one glass at a time".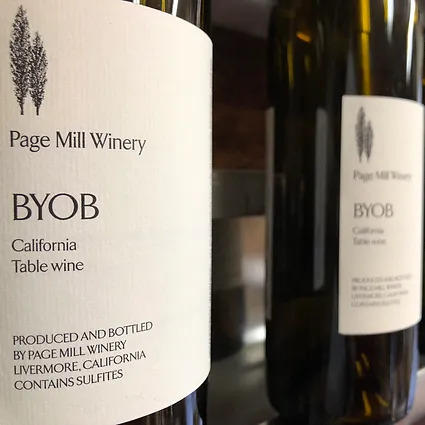 Sunday, September 17th
Every third Sunday it's time for BYOB!
Bring your rinsed empty bottles and we will fill them with a delicious red wine for just $9.99 each!
Bring as many bottles as you would like, no limit! (Please rinse with hot water no soap and drain first.)
Don't have bottles?  We sell used and cleaned bottles for 50 cents each.
Make a reservation and do a tasting while you wait for your bottles to be filled, or call/visit ahead of time to order your BYOB. This is a super fun event each month!